News — 2021
SMBC Aviation Capital joins Aviation Coalition that jointly donates $400K to support COVID-19 vaccination in 92 Countries
27/07/2021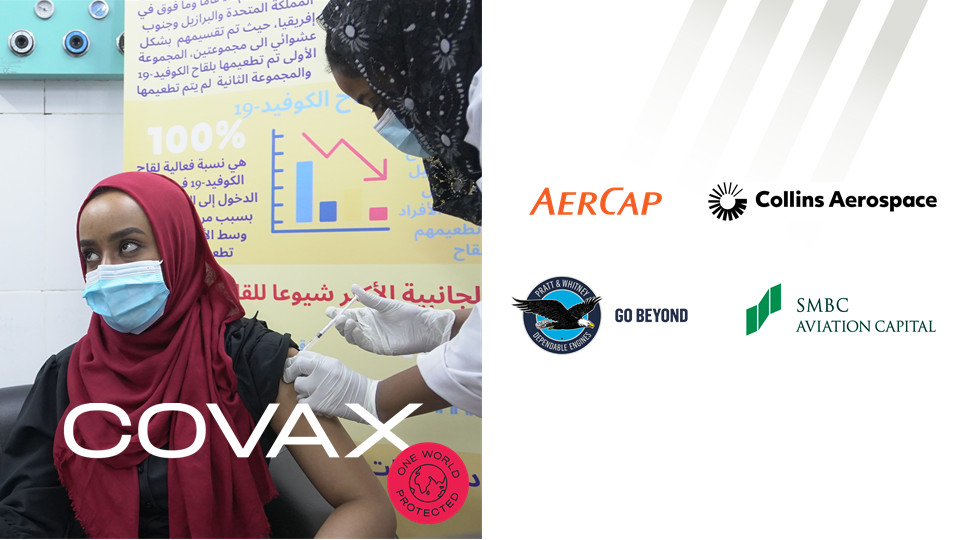 The donations will be matched by the Gavi Matching Fund, amounting to $800,000 USD to support global COVID-19 vaccine equity.
July 27, 2021 – SMBC Aviation Capital joins AerCap, Collins Aerospace and Pratt & Whitney in a group effort to support equitable access to COVID-19 vaccinations in low-income countries via a collective $400,000 USD contribution to the Gavi COVAX Advanced Market commitment (COVAX AMC), the multilateral mechanism, that provides access to donor-funded vaccine doses to 92 lower-income economies. In addition, the Gavi Matching Fund will double the impact of this gift, resulting in $800,000 USD in support of global COVID-19 vaccine equity.
The Aviation Coalition knows support is still needed to ensure no one from the global community is left behind in this pandemic. Each company contributed $100,000 USD as testament to the importance of giving people in every corner of the world safe and equitable access to vaccination. Others are encouraged to join and learn more about Gavi and the COVAX Facility.
Aengus Kelly, CEO, AerCap
"We at AerCap are delighted to support Gavi and COVAX AMC. Though parts of the world are recovering well, other areas continue to face considerable challenges. We need to continue to support the battle against COVID-19 all across the world. It is in everyone's interest to ensure the equitable distribution of vaccines and to support those who are less fortunate."
Colin Mahoney, President, Customer & Account Management, Collins Aerospace
"By supporting COVAX AMC, we can help enable access to doses of safe and effective COVID-19 vaccines in low- and middle-income countries, regardless of income level. Collins Aerospace recognizes that this pandemic isn't over until every country recovers, and COVAX is the best way for us to support."
Rick Deurloo, Senior Vice President & Chief Commercial Officer, Pratt & Whitney
"Pratt & Whitney wants to ensure that anyone who wants a vaccine can access it regardless of the country they live in. Our pledge to COVAX AMC is a reflection of this commitment, and we encourage other aviation leaders to join us in support of Gavi and COVAX AMC."
Peter Barrett, Chief Executive Officer, SMBC Aviation Capital
"It is our responsibility as good corporate citizens to play our part in addressing global vaccine equity. By supporting COVAX AMC and Gavi, we are helping to ensure that everyone will have equal access to safe vaccines regardless of where they live or their means. This is a global solution to a global crisis and one that we are proud to support."
Marie-Ange Saraka-Yao, Managing Director, Resource Mobilisation, Private Sector Partnerships & Innovative Finance Department, Gavi, the Vaccine Alliance
"Enhancing equitable access to COVID-19 vaccines is in everyone's interest. Through the Gavi COVAX AMC, we are ensuring life-saving vaccines reach the people that need them most, everywhere in the world. We have already secured 1.9 billion vaccines set to be delivered by the end of 2021, and with the additional funding from the Aviation Coalition we can continue protecting lives."
-ENDS-
Notes to editors
More information on COVAX is available here.
About COVAX
COVAX, the vaccines pillar of the Access to COVID-19 Tools (ACT) Accelerator, is co-led by CEPI, Gavi and WHO – working in partnership with UNICEF and PAHO as delivery partners, developed and developing country vaccine manufacturers, the World Bank, and others. It is the only global initiative that is working with governments and manufacturers to ensure COVID-19 vaccines are available worldwide to both high-income and lower-income countries.
About Gavi's role in COVAX
 Gavi leads on procurement and delivery at scale for COVAX: designing and managing the COVAX Facility and the Gavi COVAX AMC and working with its traditional Alliance partners UNICEF and WHO, along with governments, on country readiness and delivery. As part of this role, Gavi hosts the Office of the COVAX Facility to coordinate the operation and governance of the mechanism as a whole, holds financial and legal relationships with 194Facility participants, and manages the COVAX Facility deals portfolio: negotiating advance purchase agreements with manufacturers of promising vaccine candidates to secure doses on behalf of all COVAX Facility participants. Gavi also coordinates design, operationalisation and fundraising for the Gavi COVAX AMC, the mechanism that provides access to donor-funded doses of vaccine to 92 lower-income economies. As part of this work, Gavi provides funding and oversight for UNICEF procurement and delivery of vaccines to all AMC participants – operationalising the advance purchase agreements between Gavi and manufacturers – as well as support for partners' and governments work on readiness and delivery. This includes tailored support to governments, UNICEF, WHO and other partners for cold chain equipment, technical assistance, syringes, vehicles, and other aspects of the vastly complex logistical operation for delivery. Gavi also co-designed, raises funds for and supports the operationalisation of the AMC's no fault compensation mechanism as well as the COVAX Humanitarian Buffer.
As of July 2021, COVAX had successfully delivered more than 138 million COVID-19 vaccines worldwide, including over 110 million to lower-income economies.
"It is our responsibility as good corporate citizens to play our part in addressing global vaccine equity. By supporting COVAX AMC and Gavi, we are helping to ensure that everyone will have equal access to safe vaccines regardless of where they live or their means. This is a global solution to a global crisis and one that we are proud to support."
Peter Barrett, Chief Executive Officer, SMBC Aviation Capital